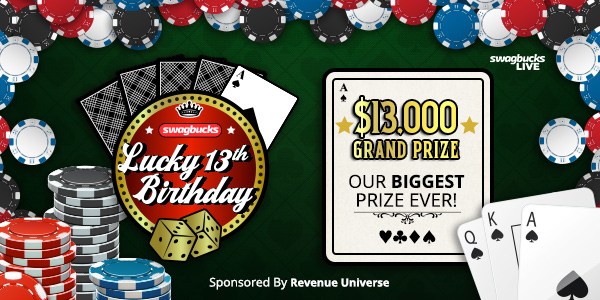 You don't want to miss out on your piece of our BIGGEST GRAND PRIZE EVER:

$13,000

(thanks to our friends at Revenue Universe!) + a 7 SB Swag Code for our US and Canadian players. See you at 8PM ET/5PM PT!
Want more
Swagbucks Offers
?
Download
Swaggernaut
for receive more
Swag Codes
.
Swagbucks Codes. All right reserved. Trademarks including "Swagbucks", "Swag Codes", "Swagstakes", "SwagButton", "SwagUp", "SB" and the logo are the property of Prodege, LLC; all rights reserved. Other trademarks appearing on this site are property of their respective owners, do not endorse and are not affiliated with Swagbucks Codes.